My name is Scarlett Arts, cello teacher and cellist.
Mijn studio bevindt zich op de Haparandaweg 788A op de begane grond tegenover een enorme nummer 67. Heb je vragen? Stel ze gerust!
Contact data
Scarlett Arts Music | Celloles
Haparandaweg 788A
1013 BD Amsterdam (Houthavens)
06-18189005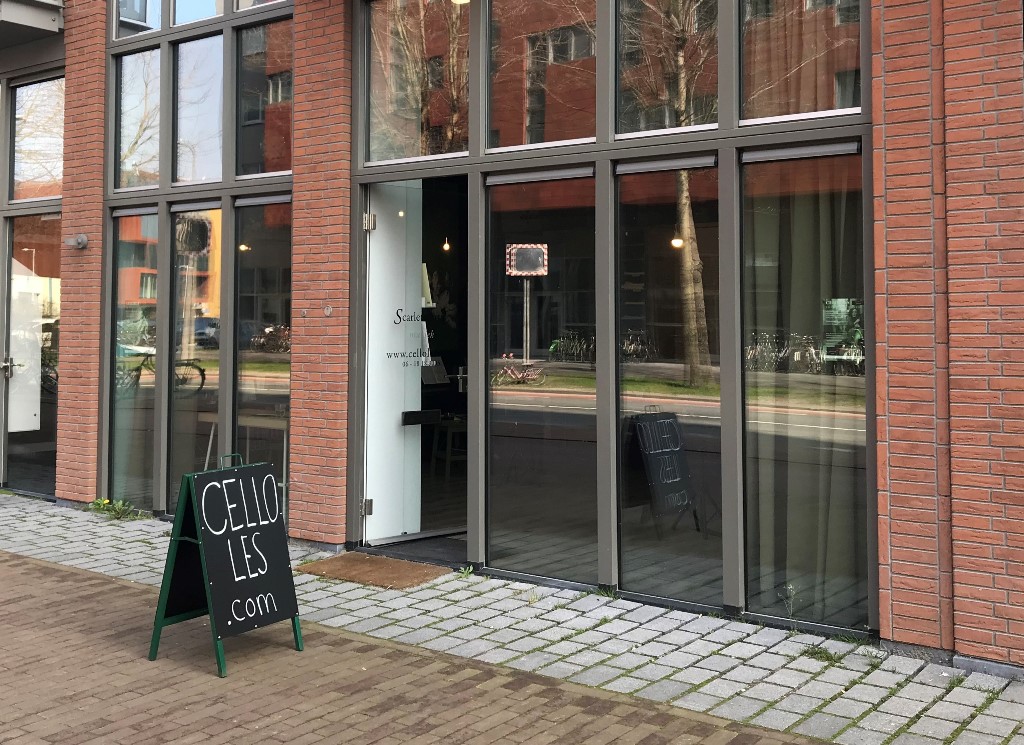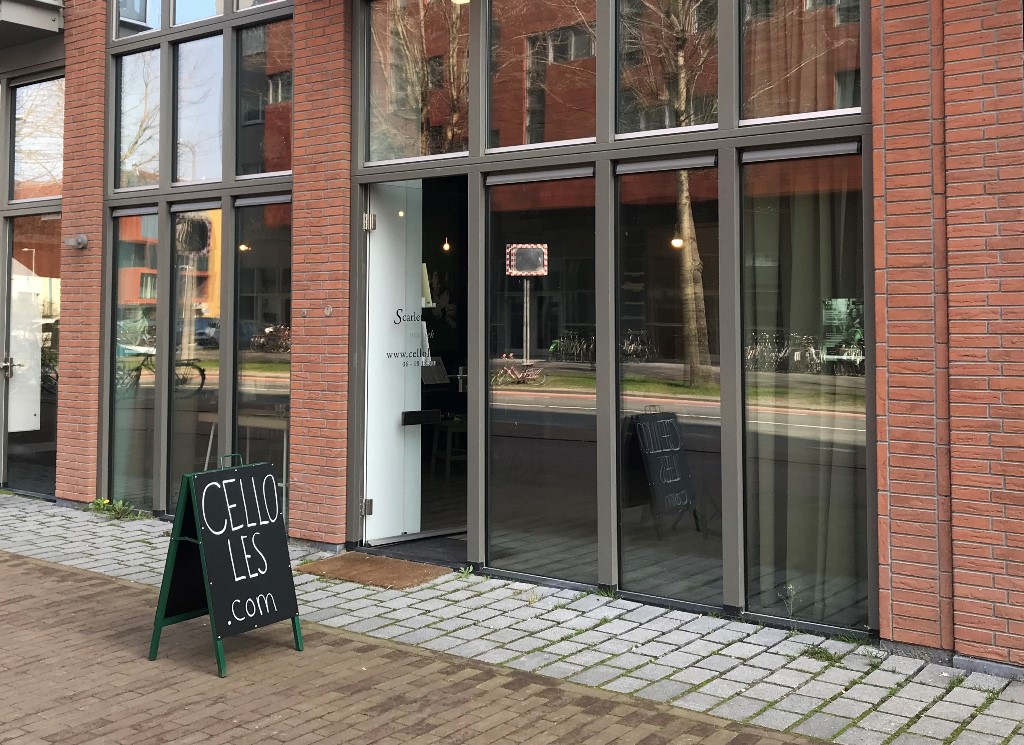 FAQ
Frequently asked questions
Are the lessons individual?
Yes the cello lessons are always individual.
How long does a lesson last?
A cello lesson for pupils aged about 16 years and over takes one hour and is always individual. For children and adolescents the lesson will be shorter; I will discuss this with the parent after a trial lesson.  Those who come from far away also choose for an hour and a half of lessons. This is only possible in consultation because of the schedule.
What does a (trial) lesson cost?
That depends on who you're with and where you're planning a lesson.
I, Scarlett, teach on Thursdays (until 21.30) and Fridays and charge € 52.00 per hour. A trial lesson is € 47.00.

.

Koen teaches two Saturdays and Tuesdays a month and charges € 47.50, a trial lesson costs € 44.50.
Lotte teaches the other two Saturdays and charges € 37.50 because she has the least experience, and a trial lesson costs € 32.50.

.
Payments will be made online immediately after the scheduling of the cello lessons on 1 February 2020.
Scarlett and Koen have decades of experience as cello teachers, Lotte only a few years. That's why Koen and Scarlett charge a higher rate for trial lessons and regular lessons. In Havelte the rate is also slightly lower than in Amsterdam (€ 47.50 for a regular lesson and € 42.50 for a trial lesson).
Is there a notice period?
Till December 31st 2019 the lessons will be taken per four. There is no refund for this, see the Terms and Conditions. From January 1, 2020 you take the lessons per piece and pay online or cash on class. So you are not attached to anything.
Do I have to come at a fixed time and weekly?
No you determine your own frequency and moment with me. However, if you are a beginner then I prefer to see you practically every week for the first 8 lessons. This to make a good motivating start. After that some people go back to bi-weekly lessons.
Can I reschedule or cancel my lesson?
Yes, that's up to 72 hours in advance. You cannot delete the appointment in the calendar yourself. You can email your cancellation or rescheduling to info@celloles.com.
Do I have to be your student to rent a cello?
No. Anyone can rent a cello from me. However, for non-pupils I charge a little more, i.e. € 35,00 per month, and my pupils rent per month, non-pupils per three months.
On what days can I make an appointment?
In Amsterdam on Thursday or Friday with me, Scarlett, and on Wednesday in Havelte, Drenthe.
In Amsterdam you can be helped on Saturdays by my colleagues Lotte or Koen.
Can I move my own lesson?
No, Scarlett does. You can email your cancellation or relocation to info@celloles.com.
Can you learn to play the cello later in life?
Sure! Most starters are over thirty, and regularly over fifty.
It has happened more than once that someone without any experience came to me to pick a cello, and after that also took the first cello lessons with me, and kept coming to lessons for years.
How much does a cello cost?
Cello's come in many qualities and varieties. It starts a bit at € 1.699,00 but then there are often nice new strings, a stick and cover.  A beautiful old cello which is in good condition can often be found between € 3.900,00 and € 6.900,00. For the old small whole and 7/8e cello's in which I have become a bit of a specialist, there are higher prices; these are very rare and think of € 6.500,00 to € 9.000,00.  
Can I also buy a cello on installments?
Yes. This is possible. You can then divide the purchase amount by twelve and complete the purchase in the twelfth month.
Can I exchange my cello?
When you buy a cello from me you can exchange it for the same amount and continue to grow to a better cello again. This on the condition that the instrument is in the same condition as when you bought it. Customers often come back three times, start on one simple cello and end up with a beautiful cello by Marc Laberte or Atelier Robin, to name but a few beautiful builders. This is a granite price guarantee.
Newsletter
Subscribe to the cello VideoBlogPost
We will handle your data with care. You can read the Privacy Statement here. By registering, you consent to receive VideoBlogPost and to be informed of our products and services.